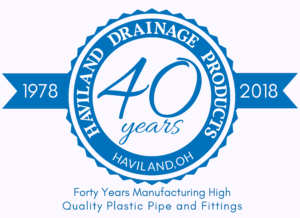 Haviland Drainage employees recently celebrated the companies 40th anniversary, of manufacturing plastic pipe and fittings. The company had its debut back in 1903, as a clayworks company, manufacturing drainage tile out of clay harvested from the surrounding land. At that time it was named The Haviland Clay Works Company. It wasn't until 1978 they began manufacturing plastic tubing, and with that the name was changed to Haviland Drainage Products. On October 19, 2018 employees gathered from all departments of the company to celebrate this commemorative milestone.
We are excited to announce, Haviland Drainage Products was recently featured in an article. That article was in Manufacturing in Focus Magazine. To read this and other great articles, within the October 2018 issue, check out this link: http:mags.manufacturinginfocus.com
Haviland Drainage Products is excited to announce the introduction of SmoothLOCK, into our product line. SmoothLOCK is a specialty dual wall stick with interlocking bells. This dual wall product is made in the same as manner as our standard dual wall. You will see all of the same quality, in addition to getting the benefit of the interlocking bells. This bell style will give you peace of mind, as well as require one less person in the trench. Please talk with your Haviland Drainage sale representative for more information and pricing.
Haviland Drainage Products is excited to announce the introduction of SmoothFLEX into our product line.  SmoothFLEX is a specialty dual wall that is flexible and able to be installed in the same manner as standard single wall jumbos. For more information please check out our SmoothFLEX page.