Haviland's flexible dual-wall pipe, SmoothFLEX, is revolutionizing the installation of agricultural mains.
Extra employees, equipment, and trench boxes are no longer needed.
Installation is easier, faster, and safer.
• Installs in 1/2 the time as Smooth Flow sticks
• Crush strength is comparable to that
of Smooth Flow sticks
• Smooth inner liner provides similar
Manning's N-value to that of Smooth Flow sticks
• Trenchless installation requires less labor,
less equipment, and contributes to
increased jobsite safety
• Ideal solution for draining high water tables
• Available in perforated, sand, and solid
Perfect for those areas where the water table elevation is an issue
Smooth inner liner allows for significantly higher flow rates
Increased safety in trenchless installation
Requires less labor and equipment on the job site
Crush strength is between that of standard single wall tile and Smooth Flow stick.
Available in:
• Solid
• Perforated
• Sand
Perforations are a 4-Row pattern
A larger boot may be required for installation
INSTALLATION RECOMMENDATIONS:
Due to added strength and stiffness, SmoothFLEX pipe can be difficult to feed into the boot. A strap can be wrapped around the pipe to help pull to help it through the boot. Alternatively, a length of corrugated tile can be coupled to the SmoothFLEX to lead it through the boot.
To provide the proper support the boot should have a rounded bottom up to the spring-line of the pipe. Additional stress could be placed on the pipe if there are voids in the haunch area of the pipe. This additional stress can result in the shortening of the life of the product. More information can be found within the ASTM F-499 installation standard.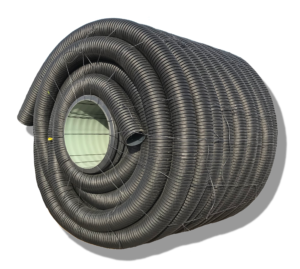 It is recommended that the boot be at least 3" larger than the O>D of the pipe. This excess space will allow the pipe to feed through the boot more smoothly and with less friction.
Haviland recommends utilizing double split couplers fastened securely with tile tape at pipe joints. The additional length of the double split coupler will provide added strength and security as the joint feeds through the boot.
Special precautions may need to be taken to avoid tight bend radiuses. Tight bend radiuses will cause unnecessary force and friction o the pipe, resulting in potential damage.
CONTACT YOUR HAVILAND REP FOR ADDITIONAL INFORMATION
| Size | Length | Jumbo Diameter | Pipe OD |
| --- | --- | --- | --- |
| 6" | 1540' | 106" | 6.8" |
| 8" | 745' | 102 | 9.5" |
| 10" | 440' | 102" | 11.75" |
| 12" | 380' | 118" | 14.5" |
| 15" | 198' | 101" | 17.5" |